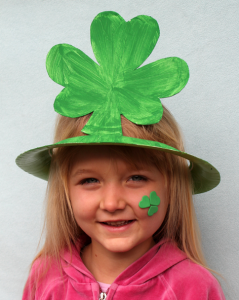 When it comes to favorite holidays for kids, St. Patrick's Day doesn't always rank  high on the list. There is no egg hunt, no stocking full of goodies, no presents to open, no secret admirers. There is just green and pinching! This year make a St. Patrick's Day memory that lasts longer than the bruises from not wearing green!  Here are some  simple crafts ideas with a "luck of the Irish" spin to them:
Craft #1: Fruit Loop Rainbow
Toddlers love crafts that involve the use and practice of fine motor skills. Outline a rainbow, and provide your toddler with a bowl of colored Fruit Loop cereal and some white glue. Help them sort the Fruit Loop colors, and then have them glue the colors onto the outline to create a rainbow!
Craft #2: Thumb Print Shamrocks
Let kids get their hands dirty and personalize homemade St. Patrick's Day cards. You will need construction paper to fold the cards with, and ink pad, and other embellishments of your choice. Buy a green ink pad, which can be found at craft stores, or even in the crafting aisles at Wal-Mart. Ink your thumb, and press it onto the card, rotate the card and do this four times to create a four leaf clover, or Shamrock. Draw on the stem. Then embellish as you see fit, and give to teachers, grandparents, neighbors, etc.
Craft #3: Bell Pepper Painting
While mom whips up dinner, the kids can enjoy a fun craft. Cut the tops off bell peppers and you will notice they will look surprisingly like a Shamrock. Give one top to each kid, and some washable paint, and let them create St. Patrick's Day artwork using the bell pepper like a stamp. (You can use the rest of the peppers to make stuffed peppers for dinner!)
Craft #4: Pipe Cleaner Rainbows and a Pot of Gold Planter
For this craft you need an assortment of different colored pipe cleaners, terra cotta pots (preferably small ones), black spray paint, hot glue, and some gold coins. Let the kids spray paint the terra cotta pots to turn them into pots for holding gold, then create a rainbow with the different colored pipe cleaners. Glue the rainbow to the inside lip of the pot, then fill with the gold coins! This makes a fun table centerpiece or St. Patrick's Day décor item.
Craft #5: Green Paint Chip Bookmarks
For this craft you need to visit a home goods store like Lowe's or Home Depot, and grab some of the paint chip cards that show three of four different shades of green. Punch a hole in the top. Thread a St. Patrick's Day themed ribbon through it, and let your kid's decorate it with stickers, their name, etc. It makes for a great bookmark.
Here's another great resource at CoolMomPicks.com for some easy Saint Patrick's day craft ideas.
Of course, there's a whole bunch of other project ideas that can be downloaded from the SonicDad members site – most of them aren't holiday-themed but we still think they're pretty cool.